News
10/09/2022
New Dawn selects first 6 projects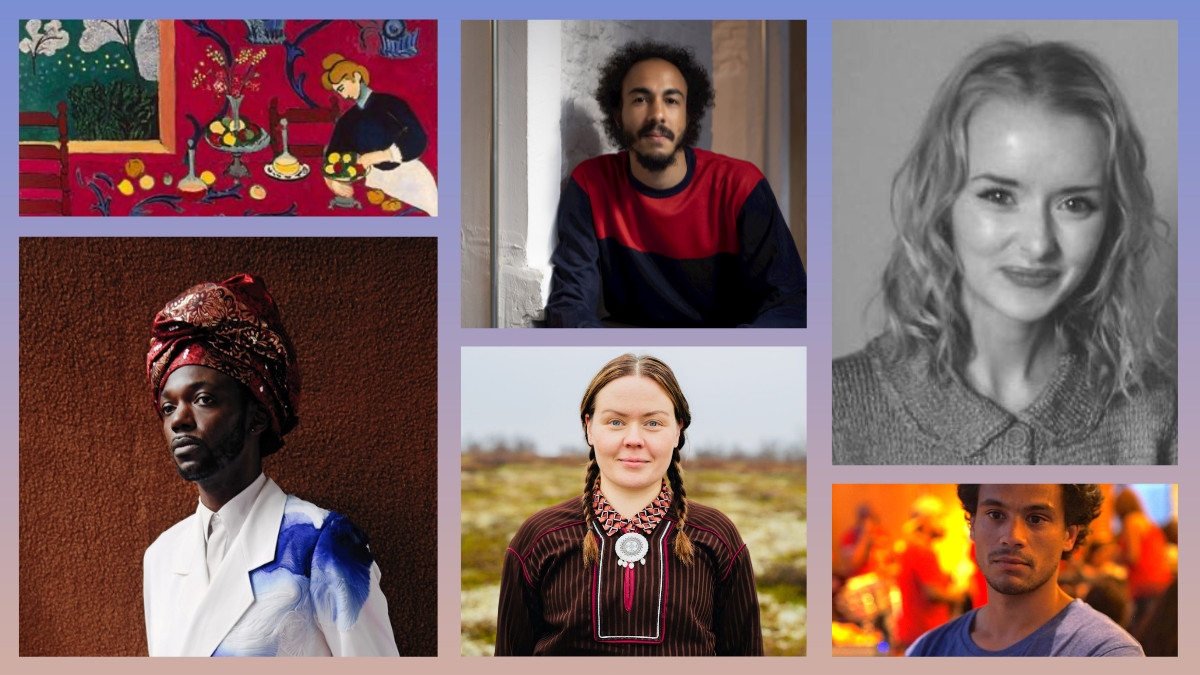 f.l.t.r.t.t.b.: Undisclosed project, Baloji (The Omen), Maxime Jean-Baptiste (Kouté Vwa), Elle Sofe Sara (Árru), Myrid Carten (No Place Like Home), Jonas d'Adesky (Time Out)
The New Dawn fund proudly presents 6 projects which have been selected for support. An independent committee selected 2 documentaries and 4 feature films from a total of 51 applications in the first call.
"We are happy that so many film makers responded to our call and very pleased with the wide variety of submissions!"
– Film maker Shamira Raphaëla, chair of the advisory committee.
New Dawn celebrates its first selection round today at the Toronto International Film Festival and is proud to announce that Telefilm Canada is joining the international fund.
The selected projects, supported with up to €200,000 for features and €100,000 for documentaries are:
Documentaries

Kouté Vwa  (Wallonia/Belgium)
Director: Maxime Jean-Baptiste
Script: Maxime Jean-Baptiste & Audrey Jean-Baptiste
Producer: Twenty Nine Studio
Logline: In 2012, 18-year-old Lucas was brutally killed at a birthday party in Cayenne, French Guiana, a French colonized territory close to Brazil, which is still France today. Ten years later, Yannick, his best friend exiled in France, who was seriously injured at the party, returns to French Guiana for the first time to attend a commemoration in Lucas' honour.Around a dead man: revenge, forgiveness, anger and love. Kouté vwa is a contemporary tragedy, in which each character unfolds his or her voice and tries to remedy an impossible mourning.

No Place Like Home (Ireland)
Director/Script: Myrid Carten
Producer: Inland Film
Logline: You can't choose what you inherit. Or can you? Framed around a contested family house in rural Ireland, 'No Place Like Home' uncompromisingly portrays the cost of love; and how difficult it can be to escape.
Feature films

Árru (Norway)
Director: Elle Sofe Sara
Script: Johan Fasting & Elle Sofe Sara
Producer: Mer Film
Logline: A Sami joik musical about Kari, a reindeer herder who joins the fight against the destruction of the reindeer grazing area. As the fight escalates, Kari is confronted with the reality that their leader is an abuser. She faces a difficult choice: stay quiet and save her family heritage, or speak up and stop the abuse in the community?

Undisclosed  (Sweden)
Director/Script: Undisclosed
Producer: Hobab
Logline: An afternoon tea in Teheran leads to reflection and daring the unthinkable.

The Omen (Wallonia/Belgium)
Director/Script: Baloji
Producer: Wrong Men
Logline: A young Congolese man comes back to his hometown to face the complexities of his family and his culture.

Time Out (Wallonia/Belgium)
Director/Script: Jonas d'Adesky
Producer: Néon Rouge
Logline: Lia, a mixed race Rwandan Belgian, professional basketballer, leaves Belgium for Rwanda where she has not visited since she was a nine year old, when she narrowly escaped the genocide. This trip awakens the memories of her past and turns her life upside down.
New Dawn was launched in May this year at the Cannes Festival by 9 European film institutes and funds, aiming to support more diversity in the international film industry. With the introduction of New Dawn the participating funds want to explore more ways to establish variety and representation. A vibrant, open and inclusive film industry with true diversity of perspectives and filmic expressions has relevance for everyone. Find our more.